Breakfast at Tiffany's – Deep blue something
Most people already have the song Breakfast at Tiffany's in their heads when they just read the title. But who actually sang the song? At least they know that. Another one-hit-wonder. The band Deep blue something has not been able to continue the success of their first single (since 2014 they are active again, so who knows).
Deep blue something?
The group was formed in the early 1990s around the two brothers Toby and Todd Pipes, who were attending the University of North Texas at the time. The two brothers convinced drummer John Kirtland to leave his band LoveSwing and join their newly formed group instead. At that time, the group still called itself Leper Messiah, inspired by a David Bowie song.
The band started their rehearsals in a barn next to a cow pasture, as you would imagine it in Texas.
Missed opportunity – Bergus steps down
The band, initially consisting of only three members, decided to engage another guitarist, this time with an acoustic guitar. Clay Bergus joined the band, and they gained local fame by performing in bars and clubs. Bergus unfortunately decided a bit too early, considering the impending success of Deep blue something, that a rock band was not for him. The band's first album, still called Leper Messiah, was recorded without Bergus. Already on this LP 11th Song, released in 1993, the later hit song Breakfast at Tiffany's was included.
second album – a new name
On the second album of the band Home the guitarist Kirk Tatom replaced Clay Bergus. Only now the group had changed its name to Deep blue something due to the title of one of their instrumental pieces. Home was first produced by the indie label RainMaker before it was picked up by Interscope and released together with, among others, Breakfast at Tiffany's. The song had worldwide success, reached gold status and helped Deep blue something to numerous morning radio appearances. As Todd Pipes reported in an interview, the band often performed early in the morning because their song title contained the word "breakfast".
As the song had breakfast in the title, radio stations thought it would be genius to have us on at breakfast time. We'd be up till 3 am and they'd wonder why we were pissed off playing at 6 am."
-Todd Pipes
Breakfast at Tiffany's und Audrey Hepburn
The inspiration for the song was actually not the film Breakfast at Tiffany's, but another one of Hepburn's films. Roman Holiday, however, according to the band, was less suitable as a title and so the former was used.
The lyrics are about the story of a relationship that is about to end. While the girl actually doesn't see any point in having a relationship with someone she has nothing in common with, the boy desperately searches for reasons to prevent the breakup. And the only thing he can think of is the fact that they both liked the movie Breakfast at Tiffany's quite a bit. In any case a sufficient basis for a stable relationship.
Angebot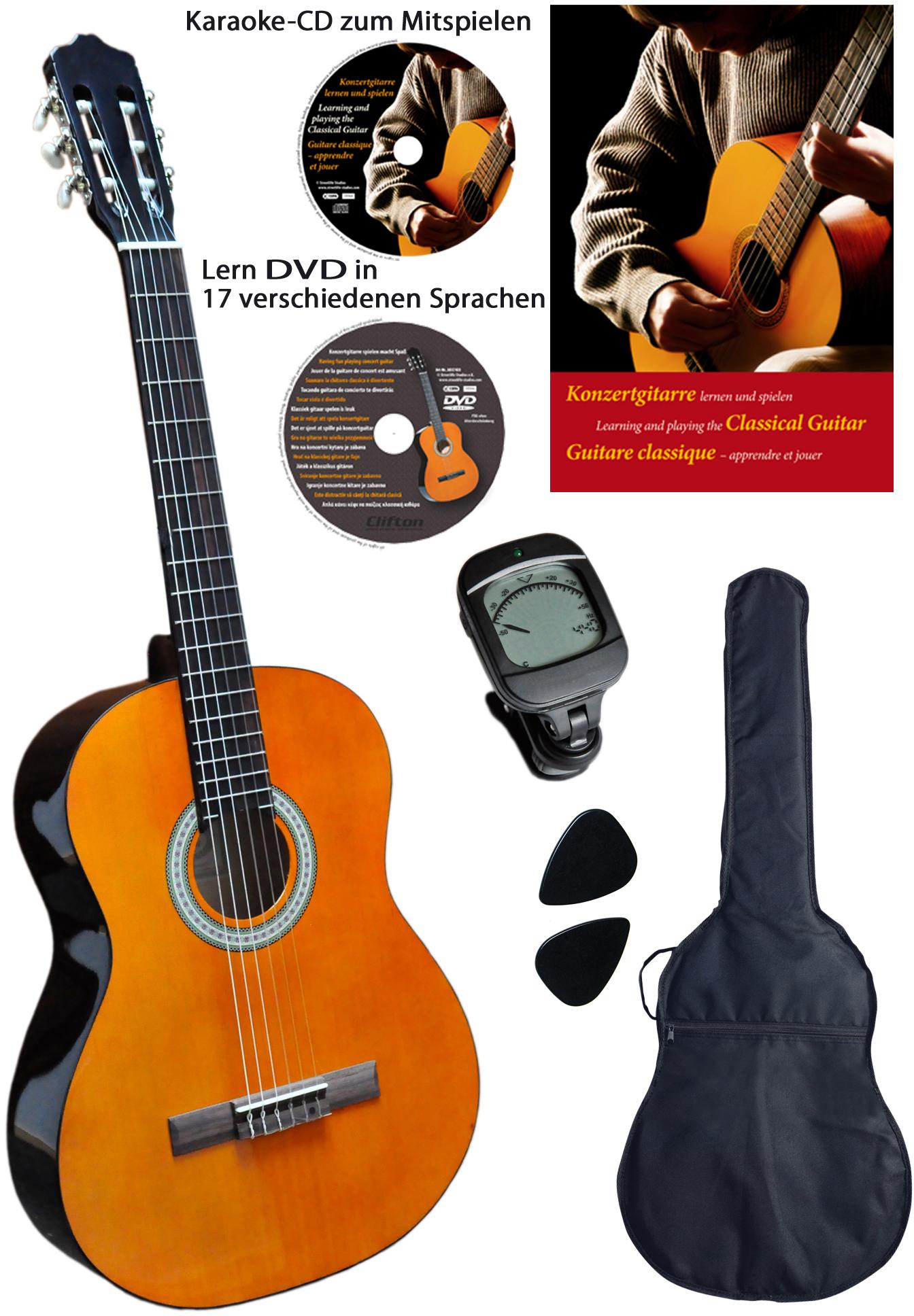 Clifton Konzertgitarre Clifton-Konzertgitarre, 3/4, Komplettset beige Audio SOFORT LIEFERBARE Technik
Set: Gitarre für Kinder + Zubehör, »Clifton-Konzertgitarre«. Perfekt für Einsteiger und Fortgeschrittene. Bei der Konzert-Gitarre handelt es sich um ein hochwertiges Holzinstrument, in Handarbeit gefertigt. Die Gitarre hat eine getönte und laminierte Fichtendecke und ist für den Musikunterricht bestens geeignet. Die Konzert-Gitarre hat eine 3/4 Mensur (ca. 58 cm), also die Länge der frei schwingenden Saiten und eine Gesamtlänge von 93 cm. Das beiliegende Gitarrenbuch beinhaltet eine Einführung zum Gitarrenspiel und viele bekannte Musikstücke für die Konzert- Gitarre. Der Schwierigkeitsgrad der Musikstücke reicht von »sehr leicht« bis »mittelschwer«. Besonders interessant ist die beiliegende Karaoke CD. Alle Konzert-Gitarren Stücke wurden von einem professionellen Gitarristen und Musiklehrer in einer schnellen und langsamen Version eingespielt. Bei den Karaoke- Versionen der Musiktitel wurde die Gitarre weggelassen und der Spieler kann hierzu mit Hilfe der Noten im Heft zu der CD mitspielen.Für Anfänger wurde darauf geachtet, dass ohne großes theoretisches Vorwissen schnell mit dem eigentlichen Gitarrespielen begonnen werden kann. Die ebenfalls beiliegende DVD In 17 verschiedenen Sprachen ist besonders hilfreich um auch bildlich alle Tipps und Spielarten kennen zu lernen. Die Gitarre sollte vor dem ersten Spielen gestimmt werden. Der Gitarrenständer ist im Lieferumfang nicht enthalten. Details: Konzertgitarre ¾ Mensur - ca. 58 cm Mensur, Maße (B/T/H): ca. 93/34/9 cm, Halsbreite: 48 mm, Laminierte Fichtendecke, Mechaniken vernickelt, Neusilberbundstäbchen, 18 Bünde, Nylonsaiten. Inhalte: ¾ Konzertgitarre, 32 seitiges Notenheft mit Übungs- und Mitspiel- CD, Lern DVD, Inkl. digit. Stimmgerät, Tragetasche (mit Rucksackgarnitur und Notentasche).
Angebot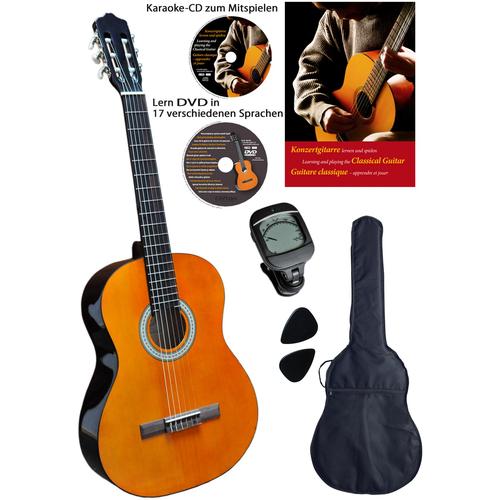 Angebot